Kee Cemetery

This cemetery is located in the 13th District,
Carroll County, Tennessee. There is one
granite head marker located at the
cemetery. It is that of Nancy Smith Kee,
the first wife of William Kee. There
are approximately 10 graves marked only by
sandstones. This cemetery appears to be
very old. Most likely the family members to
be buried are those of the Thomas Kee
family.

This cemetery is located in the forest on
the farm of Howell Pendergrass. This cemetery
is very hard to locate. From Parkers Crossroads, take
Rock Springs Road. About one half mile, go
right onto Wall Road. Travel about four miles and
cross the Henderson/Carroll County boundaries.
Cemetery will located about one half mile
northeast in a heavily wooded area.

View of the site of the unmarked graves.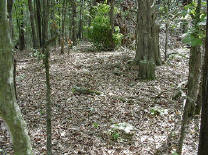 Grave of Nancy Smith Kee.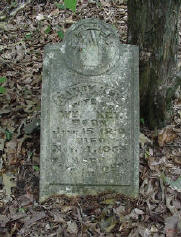 View of large cedar tree located in the cemetery.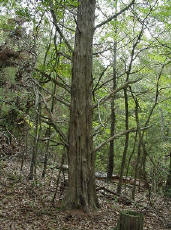 Photographs were taken by Jerry McDaniel
in September 2000. They are to
be considered as public domain.