Rosser Family Cemetery

13th District, Clarksburg, Carroll County, Tennessee
Rosser Family Cemetery is located approximately
four miles west of Clarksburg, Carroll County, Tennessee.
To get to the cemetery, from Clarksburg, take
Highway 424 west towards Cedar Grove. At
about the four mile point, you will come
to an abandoned country store which
will be on your right. In front of the store,
is a county maintained road called
Rosser Cemetery Road. Take this road
and go North approximately one quarter mile.
The cemetery will on the left at the end
of the gravel road.

This is a very old cemetery. The oldest tombstone
provides proof this cemetery was in use by 1839.
Majority of the family buried here are the descendants
of Elizabeth Norwood Rosser. The Rosser
family migrated to Carroll County from Silar City,
North Carolina approximately 1835. Many
current residents of South Carroll County and
North Henderson County descend from
the Rosser family who are buried in this cemetery.

The cemetery is in fairly good condition. It
is mowed each year by a descendant of the Rosser family
who is Kenneth Lovell, who in partnership with his
brother, Russell Lovell own the property around
the cemetery. In the early 1900s according
to Mable Rosser Coffman, a descendant
of the Rosser family, a storm damaged much
of the cemetery and destroyed many of
the trees and some of the headstones.
A chain link fence was installed by John Douglas,
the son of Sidney Douglas, in the 1960s which
is still in good condition.

There are approximately twenty headstones
in the cemetery. There are also about six sand
stones which are used as headstones. The
names of these people are lost forever.
There are indications of graves that are not
marked as well.

Other people I believe to be buried here as well are:
Freeling Hyson Douglas
Nancy J. Burnett Douglas
Anzolette Rosser Burnett
Fearington Burnett
James N. (Dock) Burnett

Please note this is my opinion. There is no proof
or documentation to verify this.

Photograph 1

This photograph was taken in September 2001.
It is facing the northeast corner of the cemetery.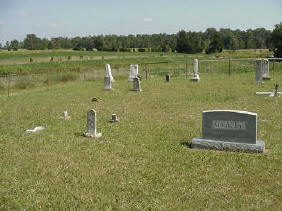 Photograph 2

This photograph was taken in September 2001.
It was taken facing the southeast corner
of the cemetery.