SANDY SCHOOL
WILDERSVILLE, HENDERSON COUNTY, TENNESSEE

(1911 Or 1912)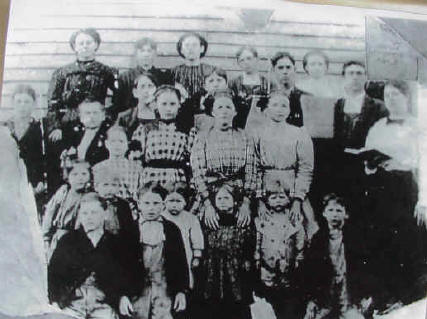 LEFT TO RIGHT:

FRONT ROW: Elmer Zell McDaniel, Edgar McDaniel (Twins), and Chalmer Todd

SECOND ROW: Elsie Todd, Floyd (?) Todd, Jeff Rush, Vinnie Todd, Clyde Small.
THIRD Josie Small, Mollie Rush, Stella Wilson, Flora Small, Ruby Douglas.
Fourth Row: Dayton McDaniel, Everett Kizer, Oscar Kizer, Murry Smith, Jesse Kiser, Will Todd
Fifth Row: Lovie McDaniel, Clem Todd, Mellie McDaniel, Jesse Small, Annie Rush

Floyd Todd and Clyde Small (too young for school), Annie Rush (too old for school). They came for the picture.
Webmaster:
Jerry T. McDaniel
P.O. Box 146
Clarksburg, Tennessee 38324

Send e-mail to: jtm@clarksburgtn.com
Prepared by:
Jerry McDaniel
POB 146
Clarksburg, Tennessee 38324