Yuma School
Yuma, Tennessee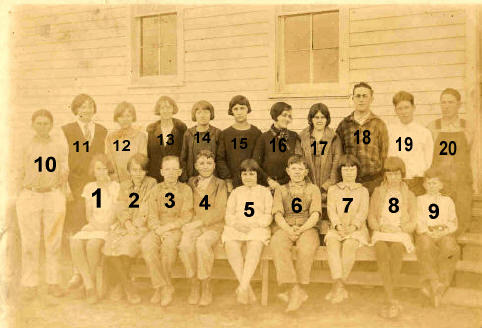 This photograph of the Yuma School class was taken sometime
in the mid twenties. If anyone knows the exact year, please let
me know. Below is the student roster.

The student names were identified by Mr. Woodrow Enochs
and wife, Mary Ruth Blount Enochs. The
names were provided by Bob Brummund, the son
of Carl Byron Brummund, who before his adoption,
was Carl Byron Enochs, Junior. Carl
Byron Enochs, Senior, was the son of Doctor William Newton
Enochs ,of Carroll County, a cousin to Woodrow Enochs.
If anyone knows any of the unnamed students,
please let me know.
Student Roster

1. Joe Willard Stanfield
11.
2. Lottie Gooch
12.
3. Troy Hollowell
13. Edith Haywood
4. Henry Howard Bolen
14. Arnell Waugh
5. Mary Evelyn Rainey
15. Ola Robinson
6. Willie B. Hollowell
16. Velma Bolen
7. Viva Dee Bolen
17. Euba Gooch
8. Olene Darnall
18. Commodore Enochs, Jr.
9. John W. Belew
19.
10.
20.
Photograph provided by Jerry Cary