John Grant

and wife,

Anna Jane
(last name unknown)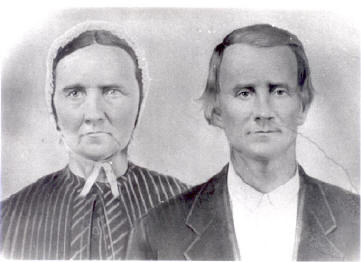 John Grant and wife, Anna Jane, were living in 8th District, Henderson County,
Tennessee, during the 1850 Census. Sometime between 1850 and 1860, John
and Anna moved to the 7th District, Carroll County, Tennessee.
Their homestead is thought to be the old John Pendergrass farm
(now Donald and brother Pete Halters own the farm). The farm
is located about three miles due west of Clarksburg. The name
of the road is thought to be Halters Road. Both John and Anna
were living at the time of the 1870 Census. They are both thought
to be buried in unmarked graves the Grant Cemetery which is
located on the old Grant homestead.

John and Anna were the parents of Mary Jane Grant,
Susan E. Grant Pendergrass,Charlotte Grant Whiddis, Clarka Ann Pendergrass O'Brien,
Tabitah Grant Barrow Johnson, Harriett Grant Robbins,
and Benjamin Grant.
The above photograph is provided by the courtesy of Kasey (last name unknown).