Captain Thomas Belew, Commanding

Company G, 7th Tennessee Cavalry (US) Volunteers)
1823 - 1875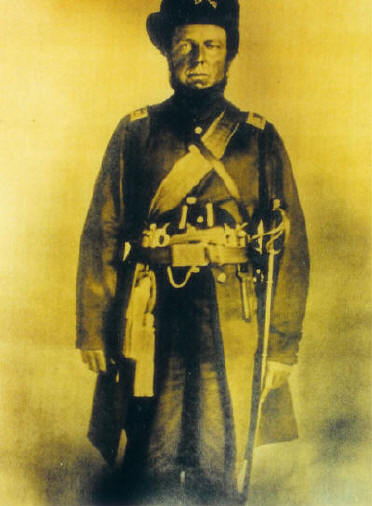 Captain Thomas Belew commanded Company G, 7th Tennessee Cavalry Volunteers (US)
during the American Civil War.

7th Tennessee Cavalry Regiment, U.S.A. was organized at Trenton, Gibson
County, Tennessee, on 14 November 1862, and was mustered out of
service at Nashville, Davidson County, Tennessee, on 9 August 1865. Company G
was one of the original nine companies formed to make up the 7th Regiment.
Company G was organized in Carroll County on 5 August 1862 and was
sourced with men primarily from the 7th and 13th Districts,
Carroll County. Thomas Belew, a father of nine children and a
farmer, was elected as the unit commander. Thomas is buried in
the Bennett-Belew Cemetery located near Clarksburg.
Photograph is provided by the courtesy
of Mr. Billy Sherrell